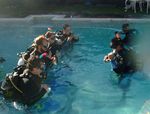 Due to the weather we were unable to do any dives over the weekend and we started our weekend with the first of 4 PADI Open Water Diver courses being run over the next 2 weeks.
After a lengthy theory session, some quizzes and an exam which all the students had succesfully completed, we were off to the pool at the Savoy Hotel to do PADI Discover Scuba Dives. Sian who is only 10 years old did all of the required skills and can't wait to do a dive in the ocean with us as part of her Discover Scuba Diving experience.
On Sunday we did the PADI Open Water Diver pool sessions. Being a bit chilly the need for a well fitting wetsuit was quickly understood. The students did well with their skills and we managed to complete all 20 of them. Congratulations to Jaco, Annemarie, Natasha and Cristophe on completing all their theory and skills. They are all keen on doing their first Ocean Open Water dives with us on our prestine reefs. Hopefully they will see all the amazing creatures we have the pleasure of visiting on every dive we do on the Long Mile reef at Jeffreys Bay. Paul, our photographer got a new fisheye lens, and took photos of anything that moved (and did not move), including some artistic photos of swimming pool grass nested in it´s native chlorinated habitat.
Here are some happy snaps of Sian and Neville doing skills as well as the mentioned group writing their exams and doing their skills in the pool at Savoy Hotel.