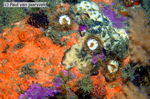 Report and photos by Paul van Jaarsveld

Sunday morning at 8am saw a full launch, with the boat filled to capacity. The ocean was pretty much flat. Due to wave like sandbanks that formed over the weekend, getting the boat into deep enough water was more of an effort than actually making it past the breakers. The surf in the bay was really small. We were going to do a shallow dive on Discovery Channel, but due to the viz that did not look great close to shore due to algae, we ventured a little further to Jagged Edge to find a shallow piece of reef with better viz. On the open sea, the SW wind blew at 19 kts which resulted in a similar surface current to Friday night, but just in the opposite direction. Neville took the line and the rest of us did a near negative entry to elimanate drift.
The water was very clean, with viz of 10m and more at places, depending on which side of the gullies you were. Several divers saw leopard cow shark as well as pajama shy sharks and we also spotted a tongue fish among things. Strangely, we did not spot any raggies. The longest bottom time was about 45 minutes, with bottom temperatures dropping into the low tens.
While several of the other divers were shaking from the cold after long dives Jacques and Faure had no such problems. They were testing their new Xcel wetsuits, which looked very warm and comfortable. Post dive chatter was dominated by discussion and comparison of wetsuits, and inspection of the Xcel suits by everybody with most of the other divers expressing their envy. African Waters Scuba now stock the Xcel diving range of wetsuits and they will soon be available in the online shop and also become the default wetsuits scuba students will be trained in if they don´t have their own gear yet.
Some photos of the day: