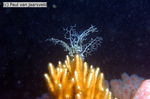 Log entry by Paul van Jaarsveld
At last it was weekend and by 6pm some amping desperate divers from all over pulled into the clubhouse. Minutes before, the Ski boat club were going about their usual braai, and the bar was open, but I got funny glares when I asked them if they thought it was a good idea to do a launch.
After everybody arrived we setup the kit on the boat and did the briefing. As we were about to move the boat to the beach for the launch, I had to quickly buy batteries because there was no way Jacques would allow a night dive if all of us did not have flashlights. I raced to town, stopping at the closest garage, first working my way down Dagama road in hot pursuit of Duracell AA batteries. Some people did not even know what it was, and I guess they were a little taken by surprise by "Rubberman" running into their shops frantically looking for penlights. Eventually, I got to Checkers, bought 4 and raced back to the beach, where everybody was waiting patiently for me with the final rays of sun long gone. My day already included a swim with my son and Brenton from Kouga Swim where I was shooting some underwater shots in the gym swimming pool, and I felt pretty tired when I reached the boat.
The launch was quite scary, with a couple of unexpected waves resulting in big jumps. Jacques is not just a great instructor, but he is a seriously good skipper. We busted out of there in no time. The reason for the ocean being so unpredictable was that the wind turned East during the day, and even though the waves were small, conditions on the open sea turned out to be very interesting. There was no moon out, and the stars over the dark ocean was incredible. Due to the conditions, Jacques urged us all to keep our life jackets on until we reached the drop off point and start to kit up. The East blew hard and there was quite a surface current. By the time we were ready for the drop, we had drifted a couple hundred meters from where we were supposed to be, causing us to travel quite a distance with full gear to get back into position. Some of us got a little queezy and started feeding fish before we bailed, but as soon as we got to the bottom, it was all forgotton. One magic moment was when I switched my light off, and saw the millions of fluorescent phosphorus lights emanating from sea creatures. When you sweep across an area with your hand, then the turbulence makes these amazing waves. I spent lots of time trying to figure out on what settings I would need to put my camera to capture there amazing lights, but settled in the end to just enjoy it and not worry about taking any further photos.
I had a short dive of only 25 minutes, due to buoyancy because of wearing more neoprene than usual. I assumed that the bigger cylinder would offset it, but I was obviously wrong. In this short time, I saw that the same reef looks way different during the night. We saw lots of little Puff-adder shy sharks, with some of them hiding by biting their own tails and making odd looking coils among the reefs. It took me a while to sort out camera settings and get the flashlight in a place where it works for photos. My idea was to do a long dive, and I had a 15L cylinder, but unfortunately I became too buoyant as it got a little emptier and after just lifting my head a little, I saw my depth went from 16m to about 8m. I deflated completely and did a 360 to see if I could see the others, but was still too buoyant. I could not see them, so I proceeded to do a safety stop, swimming hard not to pop up too fast, and then surfaced and signalled the boat. Jacques picked me up, and the plan was to drop me off at the buoy line after adding some weights, but the surface conditions were so rough, I had to take the whole kit off and get on-board. By the time we reached them, there were already a couple of guys that had surfaced and it was the end of the dive.
Getting back to land was also interesting with more guys shooting the proverbial cat as we removed the kit and secured everything on the dive rack. This is a bit of a gory subject, but very relevant to people like us who frequent boats. I had my share of hurlies as well, and as most human beings know, it does not work well on an empty tummy. The way I solved my predicament, was to swallow some salt water, which I promptly deposited back into the ocean, bringing relief and making me feel normal again. As we started moving towards the land with my sucker in my mouth, I gazed at the stars again and realized how privileged I am to have such experiences.
In the end everybody agreed that despite conditions, it was well worth the effort and we all had an epic dive. Come to think of it, this was my first night dive from a boat. The other two I did was a shore entry at Paradise beach with no waves and the one in the Marina. I am very amped for the next night dive. I don´t have good photos to show from this dive, but made sure I know how to set my camera rig for the next night dive, so that I don´t spend the greater part of the dive tweaking settings and mastering flashlight holding techniques!
(Dive times varied between 25 minutes and 40 minutes. The water temp varied between 16 and 18 degrees. Viz was very good. Ocean was a little rough.)