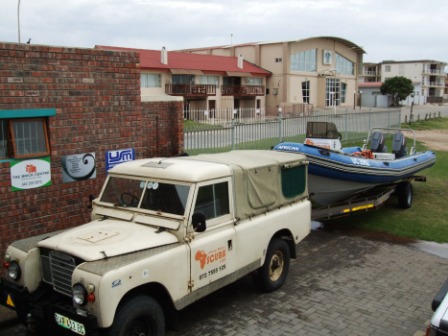 On Saturday we did our very first double tank dives to St Francis. Overcast and raining but determined to dive those reefs having waited so long to do so. On our way there a whale and her calf were playing in the bay opposite Paradys. Splashing with their tails and reminding us of their power. As the rains hit we still had about 3km to go before our first dive.
Our first dive was on Shark Point Pinnacle and we did our second dive on Seal Point Reef. Its quite a boat ride of 17,4 km to be exact but so worth your while.
Sunday we dived Jagged Edge again and as per usual we weren't disappointed. A light surface current but hardly any at the bottom. Temperatures did drop a little due to the easterly winds and 14 deg was measured on the reef. A six gill hagfish was out and about and harassed Claire as it was looking for a hiding place. I think she could hear me laugh as she used the camera as a shield. After the dive we continued with the rescue scenarios in the surf at the main beach but due to the swell that picked up I decided to call it off.
The Xcel wetsuit range is also starting to attract attention as more divers are enjoying being warm in our waters. Here are some pics....