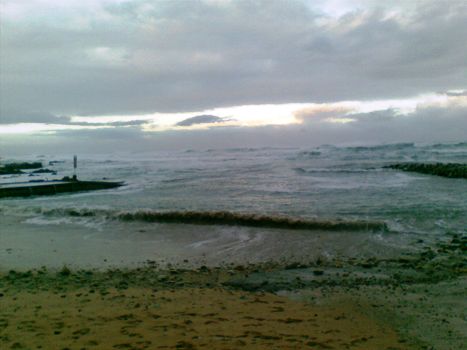 The Perfect Storm
It's hard to believe that yet another Wild Side dive fest at Noordhoek has come and gone. On Wednesday as we loaded gear and prepared the boat the weather forecast wasn't in our favour with winds of up to 42 knots predicted.
During Thursday we managed to get two launches in but the conditions changed for the worst and dives were cancelled for the day. Most of the people set off to the pub as dark clouds started to form from the west. It was already quite late when the first of the storm hit with wind and rain that flattened all but one tent. A river started flowing thru our tent as rain poured down and Friday was bleak, cold and windy. Perfect day for some Old Brown!!!
No launches were possible on Friday and everyone hoped that Saturday would turn out to be good for diving. Our first launches on Saturday was only at 11:30 and they required some good skills from the skippers as a huge swell was running. Strong surge and about 4m viz was on offer but the boats were full of eager divers. As per usual the fest ended with a prize giving with hopes that next year the weather would be better.
We stayed at Noordhoek and had a launch on Sunday morning at 09:00. Gasmic reef was awesome with about 6 to 8m viz. Not much surge and leopard cat sharks, raggie etc to end off our dive fest.
A big thanks to all who travelled, helped, dived or just got to the bar for another dive fest. Below are a few pics....