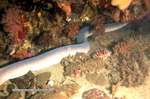 Wow. What a bumber holiday season we are having at African Waters Scuba! The phone was ringing a lot in the last two months with people wanting to book dives in J-Bay and we also got a large volume of online requests. We have been operational in Jeffreys again since a week ago, with multiple launches daily.
On boxing day, the wind was calm and we managed to fill three boat loads of happy divers from all corners. There were a lot of familiar faces to be seen, but there are also many new faces and for that we are greatful. Today we did two full launches with full boats and both dives included multiple sightings of raggies, ray, leopard and pajama sharks as well as plenty of fish. Paul van Jaarsveld came out of scuba limbo and joined us for the second dive at Flatrock Reef. Viz was varied but the best was top to bottom at 16m with water temperatures 18 down to 12 degrees. The longest bottom time recorded was 48 minutes.
We will be operational in J-Bay till 6th Jan. If you would like to book a dive, please contact Jacques (072 7555125) directly.