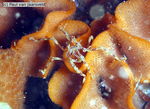 Paul van Jaarveld writes: On Saturday morning we dropped into clean water at a spot we call Caves. Depth varied between 10m and 18m and viz was varied greatly depending on sand patches or reef. The best viz was about 15m and the worst about 5m. Bottom temp dropped to 14 degrees and it was 18 degrees on top.
There was quite a surge which made things difficult for macro shooters. Fish were abundant, we saw an octopus and a shoal of sardines passed by overhead. No sharks or dolphins chasing though. Cobus Hay, who is also the new Jeffreys Bay Underwater Club chairman, was the DM. He pointed a very small Scarlet Sea Spider out to me.
I was frustrating myself with a leaking mask at the time. I did manage to snap the critter in the end. Being setup for super macro with no control over the very slow auto focus, I decided to just swim around and enjoy the dive and not take more photos. (I ordered a manual focus ring for my housing this week, so hopefully on future dives I will be able to pull focus manually.) Since I was on a super macro function, I only took photos of very small things. It´s amazing, how the small things look identical to the large things when you magnify them and it´s also amazing that there are many small things we miss on a dive. We also noticed a colorful fish we had not seen before, but it was so fast and there was no chance we would be able to get a shot of it. It vanished before we could identify it properly. In the end, time flew, and I logged a 56 minute bottom dive with 70 bars left in the cylinder.
Here are my macro shots:
Some other photos: